Recipe: Caramel Matcha Pull-Apart Cinna-Bread
Author: DaisyChubb | Filed under:
Recipes
,
Tea
New! My posts will now update on Monday, Wednesday and Friday due to my new job! Don't worry my loves, I have not forsaken you!
Ah I'm way overdue on the pull apart cinnamon bread phase! I was hoping to do a pumpkin bread one I saw on Pinterest – but cans of pricey pumpkin are not in my budget at the moment! So I picked a matcha. Matcha is in my budget actually, because of the Free Matcha promotion at Red Leaf Teas! So there 😉
I'll be reviewing their Matcha here soon – I got so many different kinds! I was actually saving this recipe to have a "Matcha Week", but then I dsdskald..wdjdk.. yeah. So now every week can be matcha week! Or something.
—
Okay so this recipe is AMAZING. It's a cinnamon bun in bread form, where you pull apart each ooey gooey slice one by one. Maximum cinnamon flavour! I used my go-to Grandma's Dough and it worked out great, but use your usual cinnamon bread dough to try something new!
Of course I had to put a twist on it. I had seen some recipes for matcha bread and they didn't look to appealing to me. Now I wish I had some Cinnamon Matcha (which Red Leaf Tea does have), but on the other hand, I did have a giant bag of Caramel Matcha!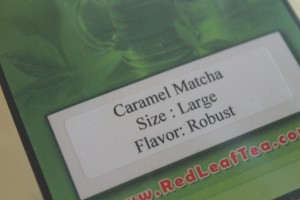 Look at that.
ROBUST
. Oh yes and it is very robust. mwahaha.
Caramel and cinnamon buns go together very well my friends. And yes – the finished product was amazing! Gooey buttery cinnamon bread with caramel flavour, a hit of energy from the matcha and I found something in my freezer to drizzle on top! I thought it was cream cheese icing but it was actually a vanilla bean glaze. It worked pretty well actually!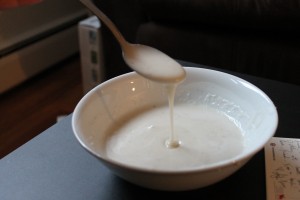 Here's the glaze. I made Pioneer Woman's Petite Vanilla Bean Scones, so if you want the glaze recipe CLICK HERE.
Pull-Apart Bread Recipe Tips:
+ I recommend a pizza cutter for cutting your bread strips. If you don't have one, don't dismay! A sharp knife works all – just watch your fingers!
+ Don't be afraid to go heavy on the sugar/cinnamon mixture. It seems like a lot, but it's what gives your bread the goo you so rightly deserve.
+ Experiment! Why not try a cheesy, savoury version of this bread? I'm a bad influence. These are the worst tips ever. haha!

Caramel Matcha Pull-Apart Cinnamon Bread
Recipe adapted from Joy the Baker
Ingredients
Dough (one full recipe makes one loaf)
1 cup granulated sugar
2 tsp ground cinnamon
2 tbsp Matcha (I used Caramel)
1/4 cup melted butter
brown sugar for loaf pan
Preheat oven to 350 degrees F. Grease loaf pan and sprinkle with brown sugar. (I like the caramelized effect this gives the bread!)
Mix sugar, cinnamon and matcha together.
Flour a large surface and roll out dough until approx 12×20 inches (as large as you can roll it!). Pour melted butter over entire surface and sprinkle with sugar mixture. Slice dough into equal strips. Stack strips and cut into equal squares. Layer squares into the loaf pan – cover and let rise in a warm place for 30-40 mins.
Bake for 30-35 mins or until golden brown. Don't be afraid for it to get a little dark – we want to make sure the center is fully cooked.
Remove and let cool for 20 minutes (good luck!). Now invert onto a plate, turn it right side up, and eat! Oh – or drizzle some delicious cream cheese or vanilla bean glaze for extra goodness. Now eat!
Don't be scared of Matcha in your baked goods. It's not bitter at all and quite delicious! Eat your tea.
6 Responses to "Recipe: Caramel Matcha Pull-Apart Cinna-Bread"
I am bookmarking this recipe so that I remember to try it sometime. I love cinnamon bread… and this may just be a tricky way to get my husband to try matcha! hehe!

This looks decadent! I rather liked the idea of Red Leaf's cinnamon matcha but I figured I could just use plain matcha and add powdered cinnamon to it if I wanted to. But I imagine the cinnamon caramel matcha bread was divine!

I hope to make this bread with my matcha at some point:
http://perfectpandas.com/2008/01/08/panda-bread/

so freakin' adorable! I'd love to see your take on it too!

Yay the panda bread!
Yeah the matcha was really interesting in this recipe! It didn't overwhelm, but it did showcase it's flavour in a delicious mix with the cinnamon 😀

Mmm, that bread looks so good! And the mystery item from your freezer made me laugh. My most recent adventure with that was when my frozen container of homemade spaghetti sauce ended up being enchilada sauce. Oops! I already had the spaghetti cooking so I rolled with it and added black beans and stuff to it. Glad to hear your mystery item ended up being something fitting for caramel cinnamon bread 😀

[…] you may recognize the Caramel Tea (not pictured because I am silly) from my Caramel Cinnamon Pull-Apart Bread recipe – today I'm going to review it as a beverage instead of an ingredient! Because it is so […]

[…] right from Alton Brown, but was also inspired by Our Best Bites to do half of them in the same Caramel Matcha Cinnamon sugar coating from my Cinnamon Sugar Pull Apart Bread. I went a little heavy on the eggwash (I forgot to take the eggwhite out), so they were a little […]
Leave a Reply