Recipe: Homemade Soft Pretzels
Author: DaisyChubb | Filed under:
Recipes
Hello salty goddess, may I dip you in mustard?
Making your own pretzels is easy peasy – it's really not hard, just time consuming! Oh and the time does indeed fly by! First you make a giant batch of dough, then roll roll roll. Give them a little bath and then a bake and an egg wash and phew – by the time they're done you are hungry like a wolf!
I got my recipe right from Alton Brown, but was also inspired by Our Best Bites to do half of them in the same Caramel Matcha Cinnamon sugar coating from my Cinnamon Sugar Pull Apart Bread. I went a little heavy on the eggwash (I forgot to take the eggwhite out), so they were a little too eggy for my liking. Next time I'll go easy or maybe just use butter instead.
We had pretzels for supper AND dessert!
Recipe Tips:
+ This is how I roll:

Just flippity doo dah ah flippity do! Practice and play!
+ Roll the dough pretty thin – it puffs up quite a bit in the soda bath.
+ Speaking of the bath – for the love of all that is holy, DO NOT SKIP THE BATH! Are you making pretzels or not? sheesh.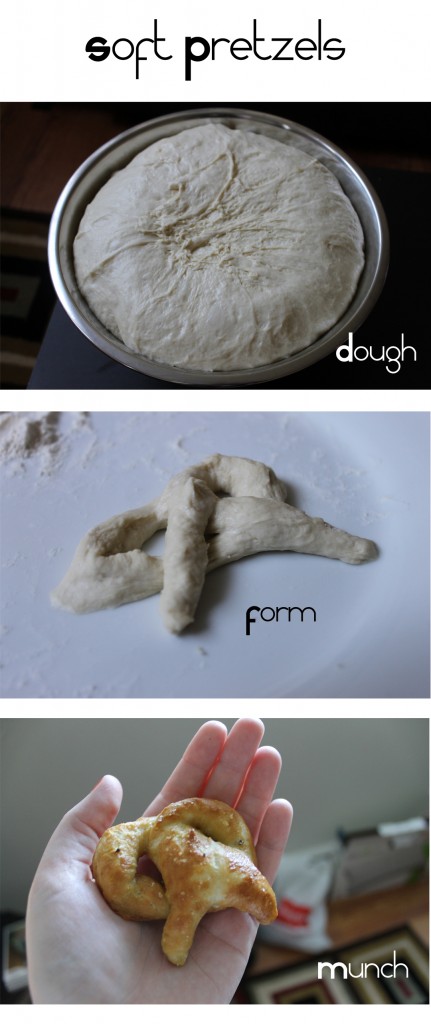 Homemade Soft Pretzels
Recipe from Alton Brown, inspired by Our Best Bites
Ingredients
1 1/2 cups warm (110 to 115 degrees F) water
1 tablespoon sugar
2 teaspoons kosher salt
1 package active dry yeast
22 ounces all-purpose flour, approximately 4 1/2 cups
2 ounces unsalted butter, melted
Vegetable oil, for pan
10 cups water
2/3 cup baking soda
1 large egg yolk beaten with 1 tablespoon water
Pretzel salt
Optional: cinnamon sugar & butter for sweet pretzels
Combine the water, sugar and kosher salt in the bowl of a stand mixer and sprinkle the yeast on top. Allow to sit for 5 minutes or until the mixture begins to foam. Add the flour and butter and, using the dough hook attachment, mix on low speed until well combined. Change to medium speed and knead until the dough is smooth and pulls away from the side of the bowl, approximately 4 to 5 minutes. Remove the dough from the bowl, clean the bowl and then oil it well with vegetable oil. Return the dough to the bowl, cover with plastic wrap and sit in a warm place for approximately 50 to 55 minutes or until the dough has doubled in size.
Preheat the oven to 450 degrees F. Line 2 half-sheet pans with parchment paper and lightly brush with the vegetable oil. Set aside.
Bring the 10 cups of water and the baking soda to a rolling boil in an 8-quart saucepan or roasting pan.
In the meantime, turn the dough out onto a slightly oiled work surface and divide into 8 equal pieces. Roll out each piece of dough into a 24-inch rope. Make a U-shape with the rope, holding the ends of the rope, cross them over each other and press onto the bottom of the U in order to form the shape of a pretzel. Place onto the parchment-lined half sheet pan.
Place the pretzels into the boiling water, 1 by 1, for 30 seconds. Remove them from the water using a large flat spatula. Return to the half sheet pan, brush the top of each pretzel with the beaten egg yolk and water mixture and sprinkle with the pretzel salt (Omit if making Cinnamon Sugar pretzels). Bake until dark golden brown in color, approximately 12 to 14 minutes. Transfer to a cooling rack for at least 5 minutes before serving.
To make dessert pretzels, brush with melted butter and dip in bowl full of cinnamon sugar! Eat and be merry!
Tags: cinnamon sugar, dip, mustard, pretzels, recipe, salt, soft
2 Responses to "Recipe: Homemade Soft Pretzels"
Looks delicious! And so cute!

I wish pretzels were one of those easy everyday breads. So much work but so much reward. In New York and other weird American cities they have pretzel carts. Why has this not happened up here?! The preztelmaker practically has a dictatorship.

Me too!!!
We need carts on the street or the people will riot! Or should riot.
Leave a Reply