Recipe: Mini Nutella Cookie Cups
Author: DaisyChubb | Filed under:
Recipes
 New Recipe! Chocolate lover?
Click on the picture below to check out the two-bite brownie style chocolate almond Nutella Cookie Cups!

—
I just had a thought, and then another thought! I thought I wanted to jump into a pool of Nutella
. Then I thought that would not be the best idea. I would rather look into Nutella's eyes and lose myself in that pool of melty, gooey, chocolatey goodness.
Oh Nutella! Nutella rules the waves!
I can't believe I've never heard of putting cookie dough in a mini muffin tin before. It's absolutely brill! A lemon cookie with a dollop of jam perhaps – reinvents the jamjam! Maybe. I'm getting sidetracked – the real star of this cup is the Nutella which brings a ferrero rocher quality to a mini cookie cupcake. I ran across this recipe for Peanut Butter Nutella Cups totally by accident and knew I had to try something similar, as it was the perfect vehicle for Nutella! Truly.
For this recipe I wasn't feeling the peanut butter cookie so I went with a brown sugar-style cookie – think chocolate chip cookie dough without the chocolate chips! That said, this recipe with mini chocolate chips in the dough would also be amazing
I also didn't roll my cookie in sugar – there was more than enough sugar in the dough and I wanted a subtle cookie that highlighted the Nutella and wasn't too sweet.
Let's talk logistics!
Recipe Tips:
+ Use a shot glass to press your baked cookies down as soon as they come out of the oven. It creates a perfect hole for your Nutella to melt in! You can also use a spoon, just be sure to leave enough cookie around the edge to keep the goo in. Also – do not use your thumb! Just covering my bases
+ When you put your tbsp of Nutella into the warm cups, don't touch it at first. Just plop it in and let the warm cookie work it's magic. After you fill them all- go back to the first one and you'll find it's perfectly melted, so give it a swirl with your spoon and your cups will be poifect. At first the Nutella is nice and melty – be sure to eat at least one cup this way! After a few hours the Nutella solidifies again, but creates this great seal that keeps the cookie moist and amazing. They kept for a few days – they may even keep longer – the trick is making them last that long!
+ After the cookie cups have cooled (alliteration!), give them a gentle twist and then should pop right out of the muffin tin. If not, use a butter knife to gently pry along the sides and they should be picture perfect!
Mini Nutella Cookie Cups
(Makes enough for 2-3 dozen)
Recipe adapted from Delightful Bites, originating from Barbara Bakes
Chocolate Chip Cookie recipe adapted from AllRecipes (sans chips)
Ingredients
1 cup butter (softened)
1 cup white sugar
1 cup packed brown sugar
2 eggs
2 teaspoons vanilla extract
3 cups all-purpose flour
1 teaspoon baking soda
1/2 teaspoon salt
Jar of Nutella
(12 tablespoons per batch)
Preheat oven to 350 degrees F. Grease your mini muffin tin (unless it is nonstick like mine).
Cream butter and both sugar in bowl until light, smooth and fluffy! Beat in eggs and vanilla until fully incorporated. Gradually add dry ingredients (flour, salt, baking soda) until all the flour is mixed in!
Roll dough into balls 1.5 inches thick.
Pop them in the mini muffin tin and bake for 10-12 minutes, until golden brown but not too dark around the edges.
When done, remove from oven and let sit for about 2 minutes. Then make wells for the nutella with a shot glass, a similar object or a spoon. Add 1 tbsp Nutella to each cup – it will start to melt quickly so you can swirl it around and make it nice and smooth.
Let cool 15-20 minutes in tin. Remove from tin and place in your mouth. Repeat. Nutella will solidify in about an hour, which then makes them safe to transport! To share.. you know? Sharing?
This recipe made enough for 3 batches for me. I kept the dough in the freezer and rolled/baked them from frozen and they were perfect!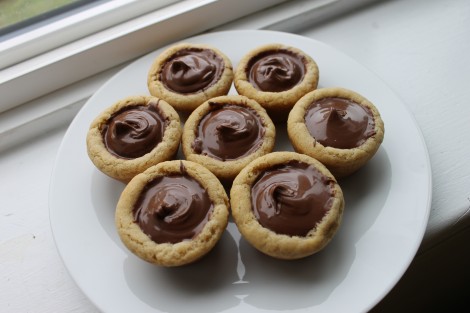 Enjoy – these gooey little bastards are to DIE for! yay!
For my next experiment… chocolate chocolate chip cookie dough with peanut butter icing in the middle? mwahaha somebody pay me to do this please
New Recipe Alert! Chocolate Almond Brownie Nutella Cookie Cups! Click HERE to take a dive into that pool of Nutella, chocolate style!
Out of Nutella? I buy mine for SUPER cheap at Amazon!

119 Responses to "Recipe: Mini Nutella Cookie Cups"
Dammit those sons of bitches look amazing… I'm drooling on my computer, great job!

Yay thanks Gabby! They are so good!

These are on my to-do list… maybe tonight! lol

Do it. Seriously. You will be happy!

TOTALLY making these with my daughter this weekend! She LOVES nutella!
Thank you!

Yay Azzrian! She will love them – they're too easy to make- just use your favourite cookie dough recipe! Whoop!

Okay, I *never* comment on stuff like this. I figure folks have enough to do that they don't need to waste time reading my words. However, these … well, these little gems change everything. These are life-changingly awesome and delicious in every way! Oh goodness. I danced around my kitchen and hummed a happy tune because these filled my happy cup. Thank you for sharing your delicious recipe creation. You have made the world a better place!

Oh my gosh, thank you Heather!!! I'm SO glad you tried them and love them Sometimes the simplest things are best – and they make us happy! Nutella cookie cups for pres!

Making these tomorrow! I'm baking cookies for my step-daughter's wedding, and these will be perfect!

Just made these and waiting for them to cool. I cheated a little and used the pre cut chocolate chip cookie dough just because I had some. Thanks for the recipe!!

@Deanne – awesome! They travel really well when they're cold/room temp!

@Michelle – also awesome! There's nothing wrong with cheating when nutella is involved The extra chocolate chips will taste soo good!

These are fabulous! I do a lot of baking and I love that these look like they just came from a bakery Thanks for sharing.

What a great idea to use a chocolate chip cookie dough base. Now I want to try your version. Thanks for the link back to my post.

Thank you for the amazing idea! Your blog is gorgeous and I have it bookmarked

I bet these would taste divine with pre-made peanut butter cookie batter! Oh goodness… let me call hubby who is at the store NOW!

PLEASE PLEASE PLEASE lmk asap if you used a full size muffin pan or a mini muffin pan?? My son turns 16 this Wed. and I think he'd LOVE these, he's a Nutella addict lol.
melzie
litlmelzie@aol.com

I emailed you Melzie!~
For everyone else, it is a mini muffin tin

ok, first of all i have to say THANK YOU for this recipe. i just made them to take to a friend tomorrow, if they last! i thought i had more nutella than i actually did. i got 2 dozen and then ran out so i put a small dab of peanut butter and then a small spoon of marshmallow fluff on top! fluffernutter. oh btw i used my fav chocolate chip cookie recipe sans the chocolate chips, but these were so good i had to share my spin on your amazing recipe!!!

Ahhh fluffernutters so yummy! I get they would be good with a layer of banana pudding too… dang I think I need to make some tonight

So making these for my pregnant girlfriend, she is totally obsessed with nutella at the moment.

She will love you for it!

I'm not sure they'd last a *day* in my house! I LOVE nutella and these look AMAZING!!

[...] a receita na Daisy Chubb's Tea and [...]

All purpose flour? Is that plain flour or self raising flour?
I'm making these as soon as possible!

Yep, it's just plain old flour!

me and my sister attempted these we wanted to know if the dough is sticky, or where we doing something wrong?

A little bit sticky is okay – but if they're too sticky to roll into balls, keep adding a bit more flour at a time until you can handle them

I made these last week, I put Nutella in half and Biscoff Spread in the other half. The Biscoff Spread was just as tasty as the Nutella. I spent some to my husband's work and now they are asking for the recipe. I will send them your way! Thanks!

Thanks Kat!
mm sounds delicious – good call on the Biscoff! Wish I had some of that laying around the house <3

How nice, Nutella is just so delicious but with the little cookie below, it must be extra-yummy!

[...] A spin-off of the original Nutella Cookie Cups! [...]

Tried them LOVED them. Now considering trying a few variations for the filling. This one will be hard to beat though. Thanks

Awesome! I'm thinking of doing a matcha buttercream filling for my next experiment

You mean you can do stuff with Nutella? O.o
I just use a spoon and eat it out of the jar!!
I'm trying these this weekend! Thanks

I've just made them and…feels like heaven! I would never imagined how wonderful Nutella would go with a cookie dough. Seriously, thank you so much for the recipe! It has become, for sure, one of my favorites! =D

Thank you – I'm so glad! It really does feel like heaven – if heaven is anything like these cups, sign me up

I made these last night and the cookie part really puffed up in the oven, which made some of them really difficult to get out of the pan without ripping off pieces of the cookie. Do you know why this might have happened? We followed the recipe to a T but they came out a lot bigger than your picture. Any thoughts?? Thanks! (By the way, they were totally delicious, even if they looked a bit weird!)

My guess is (for next time) just use a slightly smaller cookie dough ball in the cup! I've had the same thing happen a few times – just wait until they're totally cooled and use a butter knife to get them out of the tin! Hope that helps! And taste is everything

[...] Original source: Daisy Chubb's [...]

I'm thinking of trying these with peanut butter cookies instead my son will definitely LOVE these!

Definitely do it! SO delicious

Hey just wondering would they taste the same once the nutella solidify?
Im planning them for a dinner but i wouldnt have time to make them so they're all ooey gooey.

I personally prefer them solid – it doesn't completely harden (think the same texture as nutella is when you take some from the jar) but it does solidify enough to easily transport them to a party! They definitely taste the same

[...] they look delicious? Click here for a link to the [...]

Tried these today & love them! Tasted like a cookie from the Gr. American Cookie Co.

Glad you loved them!

Made them and added a small dollop of peanut butter too. Tasted like just Reeses! Delicious. Dropping a teaspoon of dough into mini muffin pan was enough, no need to roll into balls, less messy. Thank you for a great coffee biscuit!

Made these 08/21/12. Um, Yum!!!! So good. The 3 cups of flour left my cookie mix too dry. Next time I'll try 2 to 2 1/2 cups. Still turned out amazing. I love Nutella.

You know what, I live in a VERY humid climate, so I find I need more flour than when I lived in a dry climate, so definitely add the flour a half a cup at a time and adjust from there!

I love it n_n

[...] I have yet to try to make anything I've pinned, so I thought I'd take a chance and make these cookies. They seemed simple enough, and who doesn't love [...]

Tried these tonight and they were really good but I had a hard time getting them to come out of the mini muffin pan without them falling apart. I greased my pan so not sure what happened. I ran out of nutella so I started filling the cups up with crunchy honey nut peanut butter and those were really good too. Thanks for the recipe!!

Hi Jackie! Did you let them fully cool before removing them? Sometimes it just depends on the dough – I had one time when the dough didn't cooperate with me at all, but every other time was fine! haha

Saw this on Pinterest except it wasn't from your site. A site called Recipe Punch stole the photos from you . I reported it as spam. I am pinning this as the correct website.

Thank you SO much LaVonne!!!
I looked into it and it looks like a lot of people reported it as spam as well, their influence on Pinterest seems to be slowly dieing haha

any idea if this would work with regular muffin tin size? I dont own a mini muffin tin and i am positively dying to try this recipe!! Maybe add a bit more dough to the cups? Thoughts? Thanks!

Hey Michelle! I don't see why not – although personally instead of big muffins, why not make them into cookies and after the cookies come out out of the oven, make wells (like thumbprint cookies) and fill them with nutella! They're pretty rich, so keeping them small makes it easier to eat more

I'll try that – sounds a little simpler!! I was a little worried they would spread out too much, but I guess not? We'll see – I'm making them tonight! Thanks for the quick response!

Hey Michelle! I've actually done it before when I was too lazy to clean my mini muffin tin (blush.. haha) and it worked great! They maintain their shape pretty well – you can even thumbprint them before they bake too – a little easier than tackling them when their hot. Hope they turn out! They will be delicious either way!

I just made these with peanut butter cookie dough…yummy

[...] Mini nutella cookie cups [...]

[...] from Daisy Chubb [...]

Friendly cookie fare for kids – big and small. Many thanks for the recipe =)

Any reason why my dough would be super sticky?! I couldn't get the shot glass to flatten them, I even floured it and greased it…. Just wondering why my dough would be so sticky. I couldn't roll it.

Did you try to flatten after you baked them or before? It shouldn't bee too sticky after they're done baking!
If the dough was still super sticky, you might just have to bake them longer! Mine is always a bit sticky, but not crazy sticky, after baking.

[...] night I decided to take on one of the newest recipes that I found, Nutella-Filled Sugar Cookies. Um, yes [...]

I used Splenda in place of sugar & it made the cookie cups very crumbly Don't do it!

OMG!! Found this on Pinterest, tried them last night and I must say, I'm in love!! I can only eat half of one because they're so rich and gooey! But sooooo delish!!

[...] Nutella Cups & Birthday Reflections This entry was posted on October 16, 2012, in Food. Bookmark the permalink. 1 Comment It's baaaaaaaaaack….. I couldn't stay away from it for long. Ok my birthday is looming. I can't seem to stop thinking about it. The way I see it, there are two sides to my birthday, just like two sides of a coin. There is the side of me that LOVES birthday celebrations, including cake, nice meals, being spoiled by the ones I love, spending time with friends, catching up with people I haven't spoken to in ages, etc. Then there is the other side, the inevitable reminder that I am, in fact, getting older. So I start thinking about the past year as I always do. My type A personality practically demands the cataloging of my previous year of life, going through the accomplishments and disappointments and failures, trying to see where I am now compared to exactly one year ago. When I think about it, 25 was a pretty kick-ass year. Yes, there were some not-so brilliant moments. But when I take a moment to think about where I was, who I was, exactly one year ago, I realize just how much I have grown. In my 25th year on this earth, I found my passion again for food, writing, and…. life. I created websites (plural, crazy right?) that I spend all my free time trying to develop and improve. I adopted a puppy and continued to fall deeper in love with my hubby. Most importantly, I can see how much potential I have. And I have realized it is a lot more than I thought all these years. All this being said, I am pretty sure 26 will be an even better year. As scared as I am about approaching the big THIRTY, maybe it won't be as bad as I think…. This is what I call steady improvement and enlightenment. So I reward myself with Nutella. DUH. Mini Nutella Cookie Cups (from Daisy Chubb's Tea and Treats) [...]

[...] makes the best angry face! And MB and baby R were there! And also somehow I found the time to bake cookies to [...]

I made these today for the firefighters at my husbands station & they were a huge hit! Its such a diverse recipe the possibilities are endless! My only complaint is that they were not easy at all to get out of the mini muffin pan. I used Pam the 1st batch and they stuck, butter & flour the next batch & they stuck, and nothing on the 3rd batch. I let them cool completely and gently tried to wiggle them out but they came apart & I had to reassemble each one. They looked ok but it was tedious! Next time (oh there will be a next time!) i will use the mini muffin liners & then just remove them before I serve them. Thanks for sharing this simply delicious recipe!!

If it best to make these the day they are going to be served or does it not matter? i am bringing them to a party tomorrow afternoon and deciding whether to make them tonight or early tomorrow morning.

I suggest waiting longer before you try to take them out – they will be fragile and gooey like a fresh baked cookie at first, but will harden with time! Hope that helps

Doesn`t matter! I find them easier to transport the next day, plus they are just as tasty

Very good, but a bit too sweet. Would cut back on sugars next time. Like idea of mini muffin cookie. Would also suggest a thumbprint cookie.
Thank you.

can i exclude the brown sugar and add 2 cups of white sugar instead? would that work?

[...] daisychubb.com via Silvia on Pinterest Compártelo [...]

Absolutely!
It will be more like a classic sugar cookie base than a chocolate chip-type cookie base if that makes sense

I share your love of Nutella and I wanted to see if you'd heard of Biscoff Cookie Spread. The first time I tried it, I actually thought it could possibly be better than Nutella. Now I think they are equals…but Biscoff spread would be good in these cookie cups.

I've heard of it but actually never seen it in the flesh! I can't help but wonder if there are no Biscoff spreads in Canada, or maybe I'm just blind!

You can order it online…in fact, that's the only way I know to get it. I've never seen it in a store. Amazon usually sells it. In europe, it's calls Speculoos. It's basically a spread made with those Biscoff cookies (sort of brown sugary, spice cookies). It's incredible.

I've got these cooling on the counter right now! I can't believe it. They look delicious, and smell amazing. It made over 5 dozen cookies in the mini muffin tin. Great for a cookie swap!

Thanks for the tip! Now… to hunt it down! mwahaha
I think I'm obsessed on getting some now…

Enjoy Kristen! Be the Queen of all Cookie Swaps!

Ohmigod. These are amazing! I am making them for an office potluck – I'm hoping I can refrain from eating them early!!

haha I know Stacy, it's hard not to devour them all!

[...] from Daisy Chubb's, adapted from Delightful Bites, originating from Barbara Bakes Chocolate Chip Cookie recipe [...]

[...] a little searching on Pinterest I came across this recipe and modified it a [...]

I just finished making these and they are really good. I filled one batch with peanut butter because I ran out of Nutella!

[...] I didn't make any modifications to this recipe, so click here to check it out! [...]

Sorry to repeat the question, but I have three kinds of Wilton muffin tins: One that makes 6, one that makes 12 -as in your photo- and one smaller that makes 12 tiny muffins or cupcakes. Which one is the "mini" for you?

As small as small can be Norlavi – go for the tiny ones

These are AMAZING! I included these in my Christmas baskets this year, and they were a hit!!! My pregnant sister-in-law fell in LOVE Thanks for a great recipe. Keep up the yummy tasty great work!

Thank you so much Samantha! I'm so glad everyone loved them

Any idea how many calories these are?

Sorry, I have no idea! As much as a small sugar cookie and a teaspoon of nutella

My husband is a huge nutella fan, so I made these last weekend for him and some friends. Everyone LOVED them. Thanks!

Yay that makes me so happy!

Trying these right now! So excited! Just one question, do you mix the batter with a blender or a spoon??

I don't have a blender, so I use a spoon – but use whatever you usually use for cookie dough!

[...] anything to bake, and we'd do it! She went on my Pinterest page for inspiration and saw these Nutella Filled Cookie Cups, and her decision was made. So we ran out to get a jar of Nutella and got straight to [...]

[...] For recipe, visit: daisychubb.com [...]

We are a group of volunteers and opening a new scheme in our community. Your website offered us with helpful info to paintings on. You have done a formidable task and our entire neighborhood will be thankful to you.

I made these. They were gone in 30 minutes. So good. I'm making these with peanut butter next time.

haha they are dangerous like that!

I made these for Easter for my family this year.. I garnished them with a mini Cadbury Egg and OMG were they amazing… will definitely make these again… Thank you!

White sugar? Regular sugar or powdered? Sorry just never heard of "white sugar" before… But these look amazing and my husband loves Nutella. I must make these;)

[...] habe ich das Rezept bei Daisy Chubb´s, habe allerdings den braunen Zucker auch durch weißen ersetzt, da wir keinen braunen da hatten. [...]

These are ridiculously delicious!! So happy I have this recipe. Thank you for sharing!

Found this on Pinterest. All I can say…heaven in a bite. Delicious, easy to make, what more cam you ask for.

GODDAM THAT WAS LIFE FUCKING CHANGING!!!!! HOLY GOD BLESS YOUR WONDERFUL BRAIN FOR THIS ASTONISHING CREATION. I was supposed to surprise my children with these, but it ended up all in my stomach LOL (made some the next day for them lol). Once again thanks a lot you life changing human being.

[...] and enlightenment. So I reward myself with Nutella. DUH. Mini Nutella Cookie Cups (from Daisy Chubb's Tea and Treats) Ingredients 1 cup butter (softened) 1 cup white sugar 1 cup packed brown sugar 2 eggs 2 teaspoons [...]

Harold – you are amazing

[...] (Adapted from Daisy Chubb's Tea & Treats) [...]

[...] to a couple EASY desserts that always get amazing feedback: Two ingredient pumpkin muffins and Nutella cookie cups (on the latter, I use pre-made cookie dough to make it even [...]

[...] intimando vocês a testarem esta receita, pois esses copinhos são deliciosos. Encontrei a receita aqui depois de ter visto ela vagando pelo Pinterest. Pra vocês entenderem melhor, toda essa lindeza se [...]

Do you roll the dough into balls before you put into freezer (if your going to freeze some)? Then thaw before adding to muffin tin?

[...] einmal den Rechner hochfahren und Keksrezepte wälzen. Danach den Backofen anwerfen und ein Blech voll unverschämt leckerer Cookie Cups mit [...]

I just freeze the dough in a lump and roll the balls after I thaw it, but it's up to you!
Leave a Reply