Isn't it gorgeous? This tea is amazing on so many levels… but I have to say my favourite part about doing this review is that I get to drink a cup while I do it!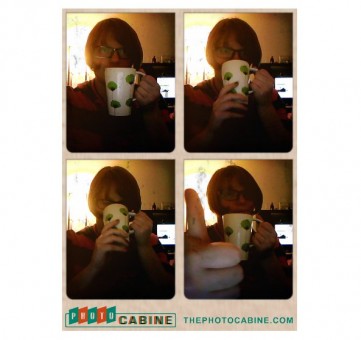 Now that I'm done being a freak – let's get to this gorgeous tea:
Cantaloupe & Cream by Butiki Teas
It really is gorgeous – on so many levels. First – the dry leaves. They smell so much like melon and look beautiful. Huge flowers and long fuzzy white tea leaves – at first glance it appears to be a silver needle, not a bai mu dan! That in itself hints to the quality of blend. Not a lot of companies put this much care and quality into their flavoured teas – that is where
Butiki Teas
truly stands apart from the crowd.
I brewed with the recommended instructions – although I usually do 30 second steeps with lower quality bai mu dan's, I knew this one would stand up to the 3 minutes 30 seconds as instructed on the bag – I wasn't a bit scared for it to be a bitter mess!
On the contrary, the tea brewed light in colour and teeming with flavour! No astringency at ALL in the first steep – that is a good white tea! The flavour is amazing – true cantaloupe flavour, not a bit fake or cloying. Naturally sweet with a creamy texture and taste. I did not need to add any sugar or cream to make this into a decadent dessert. Just say the words aloud- "Cantaloupe and Cream" – the words evoke the tastes and textures of the flavour in the tea.
Butiki Teas happens to be having a One Day Sale tomorrow (June 25th), so you should probably check them out and see their other blends. I have tried multiple and they have all been more than excellent.
I have to thank Stacy from Butiki Teas, as I actually won this tea in a Twitter contest she held. As soon as I get some money in the bank, I know I will be stocking up on some of her premium blends. They truly are worth the price – they're a little piece of heaven on earth.
Oh, and the below shot is as close as you're going to get to a picture of the brewed tea. I may have already drank it all.
Tags: butiki teas, cantaloupe, cream, review, tea
4 Responses to "Review: Cantaloupe & Cream by Butiki Teas"
Wow, fantastic pics! I especially love that first one!

Thank you Stacy! Happy birthday tomorrow 😉

Thanks for the birthday wishes!

[…] There we go! On the 8th day of Christmas my Steepsters gave to me… Cantaloupe & Cream from Butiki Teas! One of my favourite teas of all time, it even has it's own post dedicated to it! […]
Leave a Reply