Ah it's Monday.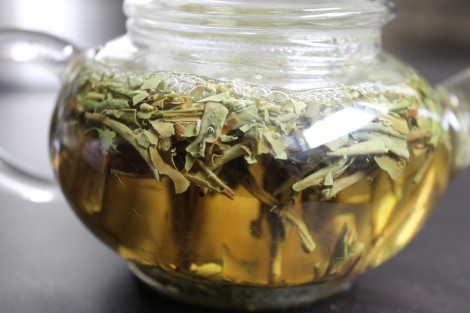 I don't have the Monday blues yet, but I know the time is coming very soon when the 9-5 job arrives and I will dread the beginning of the week again. It's a reality most of us get to face – but I'm looking at the positive side of it. I get to meet new people, they could be awesome people. I get to wake up in the morning and be motivated, maybe start going to the gym again? Of course there's the other side of it – when am I going to go out and discover the Theatre community in Halifax? Aren't those the awesome people I want to meet?
Absolutely they are. I did try to join a Shakespeare workshop – they never did return my emails. Hum. Well, right now I'll stick to what I'm doing and keep an eye out for community theatre auditions, and when the time comes, bite the bullet and stop being so afraid! Where did all that confidence go? Well I never had it – but I do have my Degree. Doesn't that count for something?
Gah. Tea helps with the nerves.
I thought I would pop open another free sample from Teavivre. Today is the Organic White Peony Tea (Bai Mu Dan). I used the whole package
1st steep: 185 degrees F. 1 minute.
The dry leaves are quite fluffy, with some broken bits that seem common in a Bai Mu Dan. The smell reminds me of fresh hay bales and something else that I can't quite put my finger on. It's not grassy… maybe it's a floral? After introducing the water, the leaves were bright and fresh green! I'm used to the leaves staying kind of grey and dull in other Bai Mu Dan's, this is lovely!
The taste is very delicate, and there is a sweet murkiness to it, that isn't a bad thing, just unique to a white tea. Everything is a bit muted, I think my next steep will be better!
2nd steep: 195 degrees F. 1.5 mins.

mm the wet leaves smell like fresh snap peas from the garden! Sweet and crisp! The taste however is quite different. It's a deep yellow and quite floral this time around. I added just a few tiny drops of agave nectar, so now it tastes like a sweet honeysuckle flower, or the delicious taste of an Indian Paintbrush flower on the side of the path. Wow this is a memory tea! A tea that evokes a picture in my head so clearly, I could be there right now. A super bright, dry, hot summer day in the Alberta prairies. Green grass, full trees and a dusty, rocky path with these flowers on the side of the road. If you can imagine, this tea smells and tastes like that. Not sweet, but like dry grass.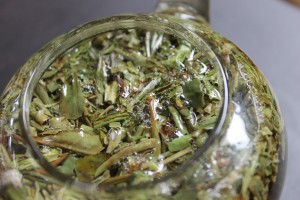 3rd steep: 195 degrees F. 2 mins.
A nice lingering sweetness in the aftertaste. Not harsh or strong like a jasmine tea. The texture is almost like velvet. It's starting to get a little bitter, but I know I wasn't as gentle as I could have been with this tea. Oops! A white tea (for me) can withstand shorter steeps – but today I felt like longer steeps to see what happened.
I could definitely get more steeps out of this tea, especially if I took shorter steeps, but I'm not really feeling it today. I enjoyed the time I had with it, but it's time to move on. I think in a white tea I prefer either a flavoured variety or a Silver Needle. Bai Mu Dans have a murky quality that isn't for me, but I enjoyed the journey this tea took me on.
If you have the time, and you're sitting down to tea – why not sip and see if the flavour or scent evokes any memories for you. Take the time to clear your mind and breathe, and enjoy this small moment where nothing matters but the cup in your hand. See what happens! Share with us in the comments if you like, or keep the moment entirely to yourself.
For me, it was a nice break from harsh reality.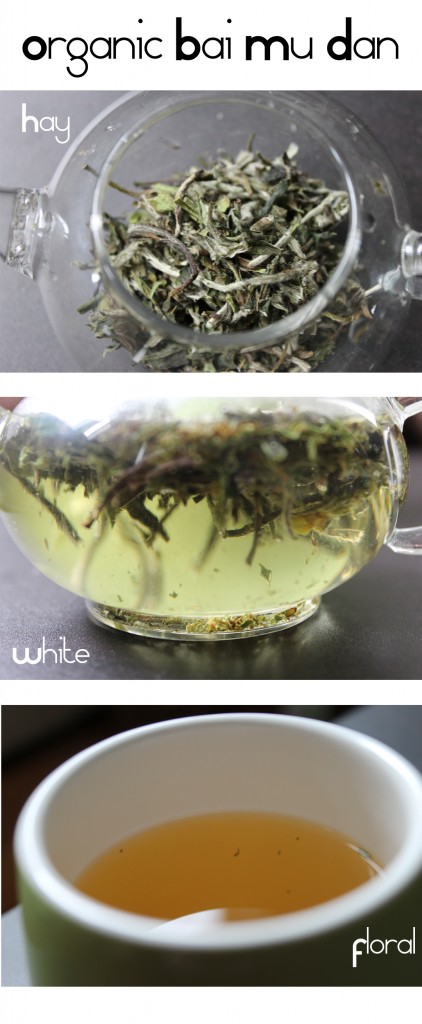 —
Recap:
around 2 tsp tea
6-8 oz water
three steeps
white tea
murky, floral, velvet, fresh hay
4 Responses to "Review: Organic White Peony (Bai Mu Dan)"
Where did you get that cute and tiny pot? I want one!

I got it from a local DavidsTea actually!
I'm not sure if they sell them on the website yet, if not – they will soon!
It's so freaking cute, I agree! 😀

I wonder if this is a tea I would enjoy? I tend to love florals, even if only for the scent experience.

I'll send a similar one your way! I think you would like it, but I think I would sooner recommend the Jasmine Pearl from the same company.
Leave a Reply