Review: Rose Mojito by The Persimmon Tree
Author: DaisyChubb | Filed under:
Uncategorized
The tea formerly known as Amore! This post was scheduled to post on Valentine's Day, but then it never posted! I've been having WordPress troubles that need some serious Spring cleaning – along with the rest of  my house.
The name of this tea was changed to Rose Mojito by The Persimmon Tree – and rightly so. It's a white tea blend with rose petals and peppermint – just the right amount of mint to be refreshing and mellow instead of sharp and intruding. A relaxing blend that makes me feel like I'm at a spa – I'll have to remember to drink this hot when I use my next fresh face mask from Lush.
A little tidbit from the website:
"Featuring a beautiful blend of organic flower-scented white loose-leaf teas, wild roses, organic peppermint and seasonally selected botanicals; the Rose Mojito is a great after meal pick-up or for sipping in the evening with someone you love due to the refreshing and aromatic qualities." (The Persimmon Tree – Rose Mojito)
The gentle mint allows the quality white tea to shine through. I think I spied a blend of silver needle and bai mu dan, but the silver needles were plentiful and floral! A great companion tea for a library visit or a walk in the park.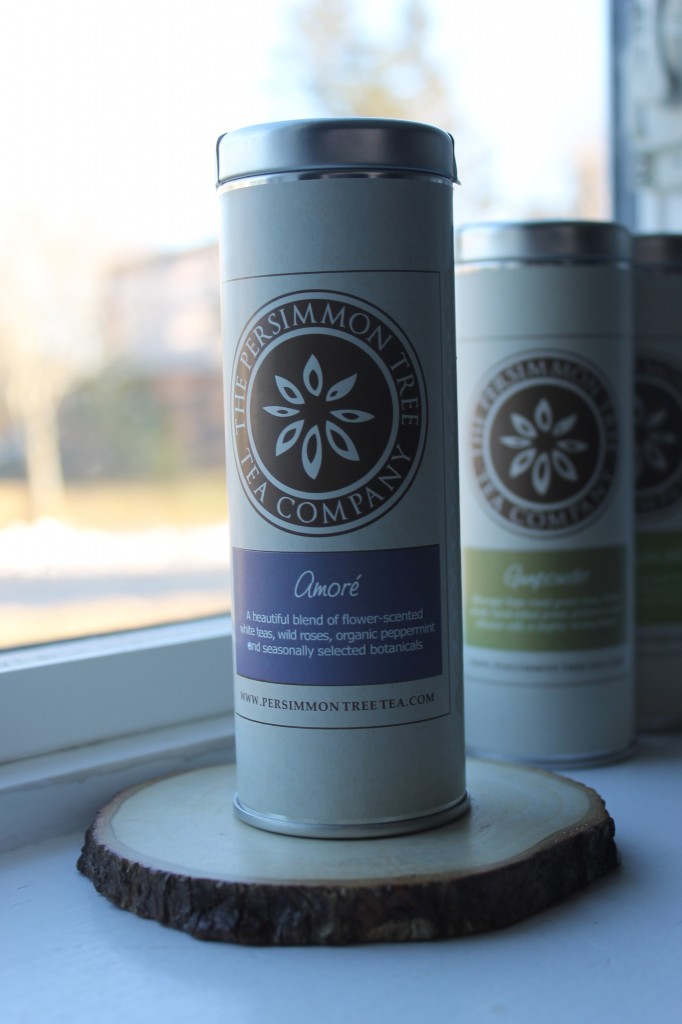 Where this tea will really shine in the summer is Iced. Since I'm desperate for some warm weather, I did come experimenting. Here is the recipe I came up with:
2 tsp Rose Mojito
muddled fresh mint leaves
zest and juice of one large lime
1 tsp sugar
1 oz. liquor of your choice (I used Honey Jack Daniels)
Sparkling Water
In a tall glass muddle fresh mint with sugar. Add zest and juice of lime and liquor (optional). Fill glass with ice. Steep tea in a separate vessel and pour over ice. Top with sparkling water and sip your cares away, mmm good. Let me tell you – it was perfection.
Thank you to The Persimmon Tree for allowing me to do this series of reviews. The Persimmon Tree is a tea company located in sunny California with high ethical standards regarding the environment, organic product, fair-trade and health! Check them out on Facebook, and keep sipping my friends!
One Response to "Review: Rose Mojito by The Persimmon Tree"
[…] couple more teas to try from The Persimmon Tree. You may remember them from my previous reviews of Rose Mojito, Banana Dulce and some others! This time I'm trying 2 types of tea I have never tried from […]
Leave a Reply