I am sooo tired. I tried to go to bed at 9:30 but it didn't work, I just kept thinking about work! But still – so tired!
It's as good an excuse as any to sip on this tea a day late! I love love love .. oops.. can't ruin the surprise tea just yet! Here are some pics: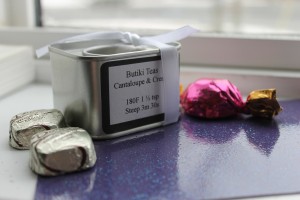 There we go! On the 8th day of Christmas my Steepsters gave to me… Cantaloupe & Cream from Butiki Teas! One of my favourite teas of all time, it even has it's
own post dedicated to it
!
An amazing and creative choice for 8 maids a milking – I would happily eat a giant bowl of cantaloupe right now, even though I hate the actual fruit. I love anything flavoured like it though! Always have, holla! Yum in my tum, this tea hits the spot. I oversteeped it – oops – but not a hint of bitterness. Love! Thanks to The Purrfect Cup!
That's today!
On the 9th day of Christmas my Steepsters gave to me…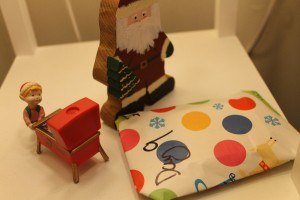 A handcrafted blend & gingerbread matcha english toffeeee!
I could not to the pictures justice because I opened them after a loong day at work! No natural light
So I posted them with Santa and the elf playing pinball. Delicious and amazing!
The toffee is perfect – buttery and crunchy with that stick to your teeth awesomeness – I need to learn to make this because this is the BEST use for the gingerbread matcha from Red Leaf Tea EVER! Thank you SO much Autumn!
The tea itself is delightful! Delicate with a hint of earl grey and vanilla – a gentle way to wake up your senses – I'll be starting my day off with it tomorrow. TWO MORE WORK DAYS UNTIL CHRISTMAAAAAS! I can do it… I can do it…
See you tomorrow lovelies!
Author: DaisyChubb | Filed under:
Review
,
Tea