Zoku: Tim Horton's Double Double Popsicles
Author: DaisyChubb | Filed under:
Recipes
,
Zoku
Yaaaay we got our Zoku! After doing a series of happy dances and putting it into the freezer for 24 hours, we started to experiment immediately.
Now – we're not coffee drinkers really. We get the occasional Tim Horton's (Double Double) and for Mike's fix, he has a small collection of instant coffee. However, we had some coffee drinking family guests, so they purchased a coffee maker (we didn't have one) and some Tim Horton's coffee!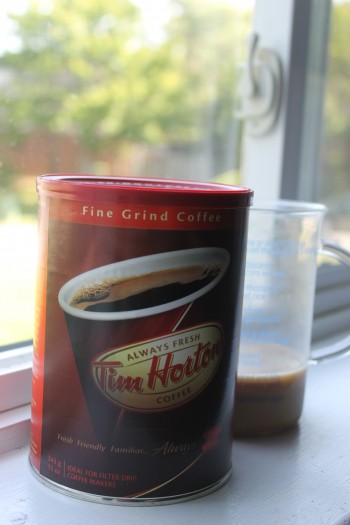 I've heard it said that the coffee at home just doesn't taste the same as when you go to a Timmy's and order a Double Double. I figured it's because at home you probably don't put in as much cream and sugar as they do! haha
Well – I wasn't expecting the popsicles to taste like Timmy's – I was just expecting a simple coffee popsicle! Oh no, with my experimenting and addition of a secret ingredient – it tasted JUST LIKE ONE!
If you don't have a Zoku Quick Pop Maker, just use a regular popsicle kit! You just have to wait a little longer, and doesn't it taste better when you have to wait for it? 😉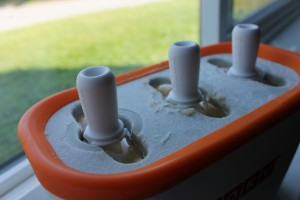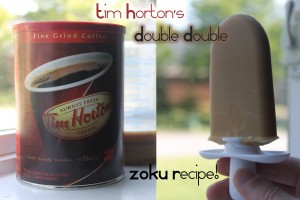 Double Double   Popsicles
(Makes 6+ Zoku pops)
Ingredients
1 1/2 cups brewed Tim Horton's coffee, chilled
1/4 cup coffee cream
1/4 cup white sugar
3 tablespoons sweetened condensed milk (add more to taste, this is the secret ingredient!)
Combine all ingredients, mixing until sugar is dissolved. Be sure to taste test! It seems like a lot of sugar, but sugar is so important for the popsicles to work. Make sure your mixture is cold and pour into the molds. Let freeze until done (9-12 mins) and remove. (If you're not using a Zoku, let it freeze overnight or a few hours until totally frozen).
Keep extras in the freezer by lining them with wax paper and keeping in a freezer bag.
Enjoy your Double Double popsicle!
I know it's fall, but give me a break! We just got the Zoku! Plus, I want popsicles all year long, that's how I roll!
The next Zoku recipes will be very fall flavoured. Think Pumpkin pie, spiced tea and eggnog! Yummeh.
Tags: canadian, coffee, cream, double double, popsicle, tim horton's, zoku
One Response to "Zoku: Tim Horton's Double Double Popsicles"
A truly Canadian popsicle recipe! It's still summer, right?!
Leave a Reply